Dear Team
The management of TITAN MACHINERY GROUP announces the continuation of further business development in Ukraine, as a result of which the Company has undergone changes in Ukrainian management team, as well as in increasing the footprint in the market.
From September 1, 2021, Heiko A. Kreisel has been appointed General Director of Titan Machinery Ukraine LLC.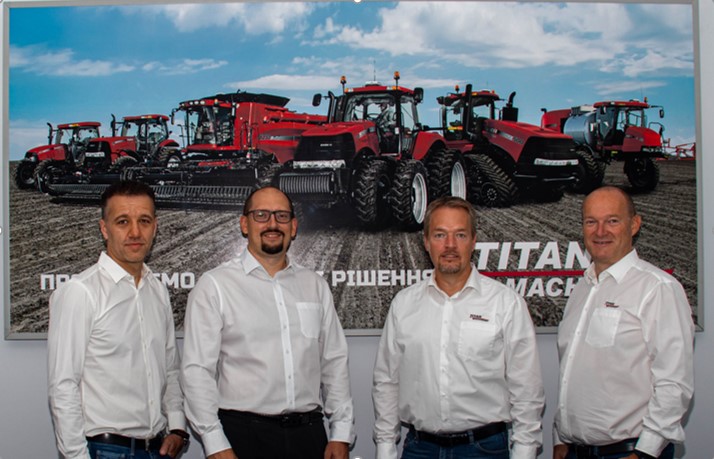 Heiko has more than 20 years of profound experience in strategy and business development, sales and after-sales management in the industrial sector. Heiko has previously worked successfully in key management positions at the German Zeppelin Group in Russia, Armenia, Central Asia and since 2014 was leading as General Director the Zeppelin subsidiary in Ukraine with more than 550 employees.
Heiko holds an Executive-MBA from Kellogg School of Management, Northwestern University (USA) and the Graduate School of Management named after Otto Beisheim, Düsseldorf, Germany. He is fluent in German, English and Russian and was elected as President of the German-Ukrainian Chamber of Industry and Commerce (AHK Ukraine) in 2020.
Manfred Spendier, former Regional Director of the Ukraine-Romania division, will focus on the development of the Romanian division of Titan Machinery. We are grateful to Manfred for 2 successful years in this position.
Vitalii Huziievatyi, who previously held the position of General Director of Titan Machinery Ukraine, has moved to the position of Business Development Manager Ukraine. Vitalii will continue to develop the sales network, as well as focus more on improving internal processes in the company.
We are also pleased to announce the expansion of the Company's footprint in the Ukrainian market. Therefore, Titan Machinery Ukraine is now also responsible for the sale of CASE IH equipment in Sumy and Kharkiv regions. This expansion is a logical continuation of the company's activities in recent years. This significantly strengthens the company's position in the market, as well as allows even more farmers to use the professional services of the Company.
"We consider the development of the Ukrainian market as one of the key tasks in Europe. Thanks to our presence in Sumy and Kharkiv, we will be able to be significantly closer to our customers. CASE IH equipment is known and valued in these areas, so our task is to continue the good traditions and maintain high standards of services. Titan Machinery always tries to provide the best solutions in our segment, many Ukrainian companies have already appreciated the work of the Company and work closely with us. Many companies have purchased and successfully work with the latest models of machines, including new generation Steiger AFS Connect and Magnum AFS Connect tractors, combines with intelligent threshing strategy selection, newest precision farming solutions, including Patriot self-propelled sprayers and many others. We know the needs of a farmer and we have something to offer every company from a large agricultural holding to a single farmer. " - comments Christian Mitterdorfer Vice President Europe Titan Machinery.
As of today, Titan Machinery Ukraine is the official distributor of CASE IH equipment in 9 regions of Ukraine (Volyn, Rivne, Zhytomyr, Vinnytsia, Odessa, Kyiv, Chernihiv, Sumy and Kharkiv) or about 40% of the Ukrainian market of self-propelled agricultural machinery.